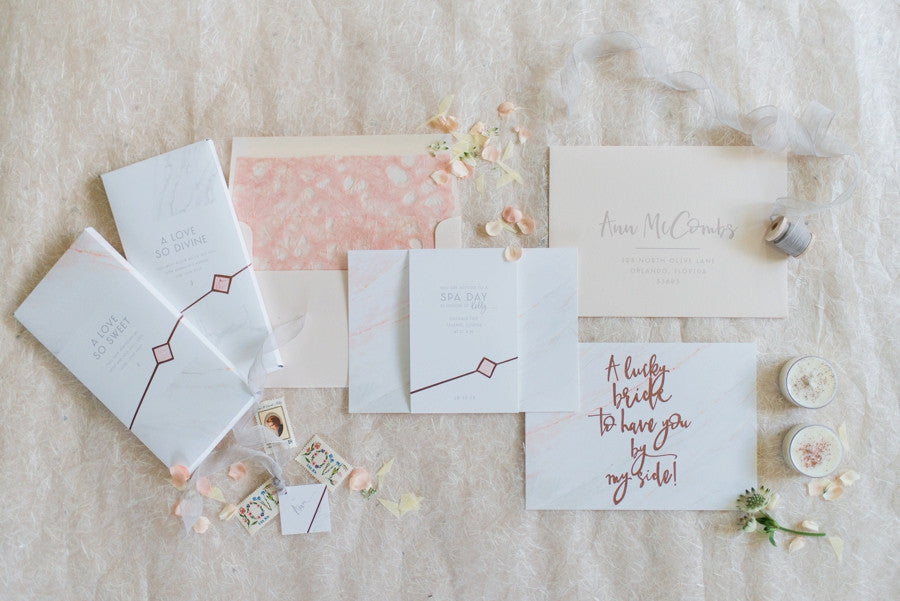 Good Afternoon Everyone!
Hope this finds your week going great!
-------------------
I am so thrilled to tell you about this gorgeous Engagement Session proposed by the amazing team at Captured & Engaged.
This editorial shoot was flawless and showcases the story of a Bride having a luxury spa day with her friends and soon to be Bridesmaids. The event had a sweet, airy, blush infused feel all throughout.
Captured & Engaged also was featured on the amazing "Every Last Detail" blog here:
http://theeverylastdetail.com/blush-copper-bridesmaid-spa-day-inspiration/
---------------
The mastermind behind the elegant stationary was the talented Eleven Note. I am always in awe of Siuleth's work and was thrilled when she reached out to include our hand poured glitter tea lights.
Shop our glitter tea lights here:
https://charlieandcrew.com/collections/home-fragrance
Head on over to http://capturedandengaged.com/ to see the full feature and all the amazing artists links who made the magic of the shoot happen and a sweet video of the day! Have a great day!
Warmly-
Samantha <3
--------------------------------------------------------------------
Credits::
(see full list at capturedandengaged.com)
Concept & Photography: LH Photography
https://www.instagram.com/lysuelhphotography/
Concept, Planning & Design: The Busy Bee Events and Design 
https://www.instagram.com/thebusybeeeventsanddesign/
Concept & Stationery: Eleven-Note @elevennote
https://www.instagram.com/elevennote
Videography: Rad Red Creative @radredcreative
Continue reading